Two Models
The Raman system allows Raman shifts ranging from 130‌cm‌-1‌ ‌to‌ ‌4000‌ ‌cm-1‌. There are currently two models available, namely:
Standard (‌TO-ARS-532) – 300 cm-1 Raman shift
Extended (‌TO-ARS-532-E)‌  – 130 cm-1 Raman shift
Enhances Weak Raman Systems
To allow accurate measurements of weak Raman systems, the Almad Raman system is chilled to -35°C below ambient temperatures via thermoelectric cooling technology (TEC) thus allowing the acquisition of several productive minutes.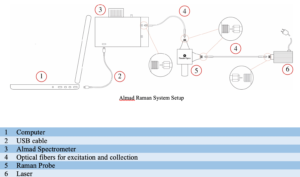 The Spectrometer
The spectrometer features a variable slit between 10‌ ‌µm‌ ‌to‌ ‌600‌ ‌µm. Go from a lower (30‌ ‌cm‌-1‌)to a higher resolution ‌(8‌ ‌cm‌-1‌) by turning the micrometric scream and without dismantling the slit or ceasing measurements.
The Laser
The system comes in two configurations. First is 532nm laser excitation with 0.1nm laser widths and adjustable power until 200mW.
Important note! The coupling efficiency is reduced to 70% before fiber entrance. So, the power of at least 100mW will be shined on the sample.
The Raman Probe
Going as low as 130 cm-1 for the Raman shift, the Thunder Optics probes of this Raman system have a long working distance of 8mm. This includes a standard setting that has a ‌20 x 0.40N‌ ‌microscope objective. However, other objectives are also available for convenience.
Some of its best features and accessories include:
A cuvette holder to keep liquid samples stable.
A Raman shift range from ‌130 ‌cm‌-1 ‌to‌ 4000 ‌cm‌-1‌‌ ‌complete with ‌ 8 ‌cm‌-1‌ ‌
Easy to use and portable.
Compatible ‌with‌ ‌Spectragryph‌ ‌software.‌ ‌
Long‌ ‌working‌ ‌distance‌ ‌microscope‌ ‌objective‌ ‌20X‌ ‌0.40NA‌ ‌(8mm)‌ .
Variable‌ ‌slit‌ ‌from‌ ‌10‌ ‌to‌ ‌600‌ ‌µm which provides a wide range of resolutions.
Variety of applications.
Software
Spectragryph research-grade software is available for non-commercial use of the Raman system. Use it to complete a range of functions from intensity measurements to absorbance, transmission, Raman, etc.
For commercial use, there is an upgrade fee of the Spectragryph license from noncommercial to commercial use.
Please, contact sales@thunderoprics.fr for commercial use license.
Applications
The Almad Raman System can be used for a wide range of applications for a range of fields such as the following:
Gemology.
Geology and Mineralogy.
Environmental science.
Semiconductor & Solar industry.
Food & Agriculture industry.
Pharmaceutical industry.
Chemical processes.
Medical diagnosis.
Forensic analysis.
Recommended accessories
The Almad Raman System should be supported with the following accessories:
High‌ ‌stability‌ ‌stand‌ ‌for‌ ‌the‌ ‌Raman‌ ‌probe‌ ‌with‌ ‌XYZ‌ ‌micromotions‌ ‌
Standard‌ ‌Stand‌ ‌with‌ ‌XYZ‌ ‌micromotions.‌ ‌
Cuvette‌ ‌Holder‌ ‌for‌ ‌liquid‌ ‌samples.‌ ‌
Advanced‌ ‌license‌ ‌for‌ ‌the‌ ‌software‌ ‌(sample‌ ‌identification‌ ‌…).‌ ‌