The laser module TO-532LM-060 has a wavelength of 532nm and 50mW power. This laser belongs to Class 3B products and has a stable signal for over 2 hours (<3%). It has good heat consumption and low electrostatic discharge which made this laser the best suitable solution for medical, lighting show, industrial, and level tooling applications.
TO-532-LM-060 can be powered by DC voltage but, for better control of the laser power and better stability of the laser power, the Variable Power Supply TO-PS-5  is a better power solution (not included in the offer).
Noteworthy Features About the Product:
Built-in with input voltage reverse protection and transient protected circuit.
Automatic power control circuit with constant output power.
Stable appearance size with black coating and low heat consumption.
The SMA905 optical fiber adaptor (optional).
The SM1 collimator adapter (optional).
The Variable power supply board TO-532PSB-060 (optional)
 S-size or M-size zip case for safe storage.
Outline Dimensions:

SMA905 optical fiber adaptor: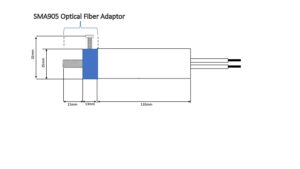 | | |
| --- | --- |
| Fiber Type | Multi |
| Fiber Core | 100~1000 um |
| Fiber Connector |  SMA |
| Fiber Length | 1m standard |
| N.A. | 0.22 |
| Coupling efficiency | % 75 |
SM1 collimator adapter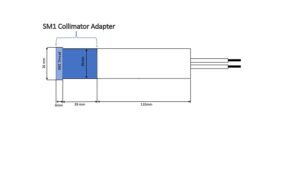 For easy integration of the laser module in your experimental setup, we developed the collimator SM1 Adaptor. It converts the point shape laser to an expended beam of 8mm diameter. This collimated laser is easy to manipulate and focus on.
This converts the laser module to a compatible laser module with all Thorlabs parts (SM1 is a standard Thorlabs thread).

WARNING!
Avoid all eye exposure to a beam. This Class 3B visible-light laser is hazardous for eye exposure. Besides, reflections off mirrors, glass, and shiny surfaces can be just as hazardous as the direct beam. Avoid reflected Class 3B beams the same way you would avoid the direct beam.
Laser glasses or goggles must be worn to protect against the laser's power and wavelength. Do NOT open the unit under any circumstance. It does NOT contain any user-serviceable parts inside, and there are dangerous voltages present.