Price Increase at Thunder Optics

Dear Valued Customers,
After much deliberation, we at Thunder Optics have concluded that adjusting our rates to keep pace with manufacturing, operating, and shipping costs is necessary.
It was a tough decision to make, and we understand how it affects our customers. Therefore, we've decided to go forward with gradual increments throughout the year instead of a sharp price rise.    
We have tried to prevent this price increase for as long as possible, even during the COVID-19 pandemic, despite the supply chain issues and the rise of raw material and transportation costs, because, of course, we want to provide top-notch spectroscopy products at the lowest possible rates.
However, the escalating costs due to rising inflation are now too much for us to afford. We regrettably have no option but to implement a slight price increase on our instruments, effective from April 01, 2022.
Why are we making this change?
Since our inception, we have gone above and beyond to meet your needs and exceed your expectations. This price increase solely reflects our commitment to the same.
We can only continue to maintain the type of quality you have come to expect from our instruments if we increase the prices slightly. Hence, we have decided to take this step because compromising the products' quality will be against our promise to you.
What does it mean for you?
To help you keep up with the latest industry trends, we are investing in the research and development of new, more advanced instruments, including but not limited to Laser, New Raman System, and a High-Resolution Monochrome Spectrometer. You can expect to get your hands on these products this year.
Furthermore, we have significantly improved the packaging of our instruments to ensure their safety and storage convenience. Don't be surprised if you receive your products in new packaging in the coming month. As our existing customer, you can also purchase zip cases in three sizes from our store.  
Moreover, we plan to hire more customer support professionals to improve the customer service experience. Our representatives will be at your service 24/7 to answer your questions and address your concerns.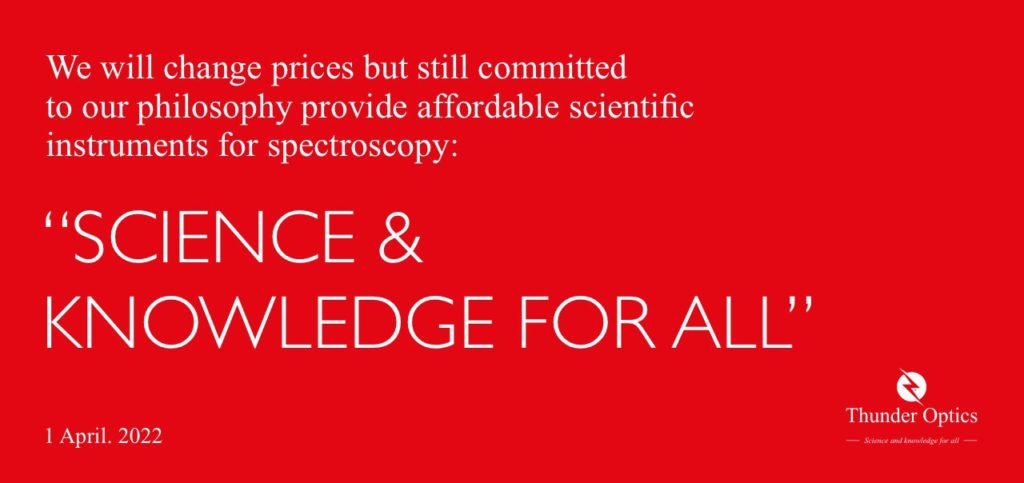 Rest assured that we still stand behind our motto, "Science & Knowledge For All." Come what may, we will continue to provide high-quality spectroscopy instruments at competitive market prices to every client along with ongoing scientific support.
As always, we appreciate your business and continued support. We believe that the price changes will help us continue providing you with premium quality products and services. We understand it is a significant change and but we feel this is the best way to serve you and create more opportunities for you in the long term.
Thank you for choosing Thunder Optics. We hope to continue this partnership for years to come.
If you have any questions about the price changes, contact +33 6 52757056 or info@thunderoptics.fr